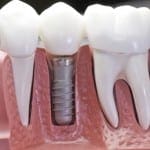 Dental implants in Dallas are used to support crowns and bridges.  A dental implant can be used with a single crown or a bridge to replace a missing tooth or multiple teeth.
"Numbing" may not be necessary when the prosthetics or "crown" work is completed.  Many times most of the procedure can be done indirectly…that is outside of the oral cavity.  That means no drilling inside your mouth!  Typically, an impression is made with no anesthetic and a few weeks later your new teeth are in place.
Materials involved for implant crowns and bridges are similar to that of crowns and bridges for natural teeth.  Implant crowns and bridges can restore and give you the best feel and look of natural teeth.  Implant teeth can't get cavities!  Yea!
_____________________________________________________________________________________________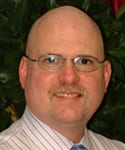 Dr. Miller has been working with dental implants in Dallas since 1991.  He has the education, experience and the credentials to provide his patients with his very best in Dallas dental implants.  As a Master in the Academy of General Dentistry and a Fellow in the International Congress of Oral Implantologists, he is one of just a small percentage of dentists with those credentials.  Dr. Miller can discuss and plan what would be the best implant treatment option for you.  He can discuss and answer any questions related to the planning, placement and steps involved with an implant treatment plan.  As a reminder, Dr. Miller provides personalized dental care so that he may spend time with each of his patients.
His focus is with helping patients decide what type and which materials fit their mouth and beautify their smile the best.  He can help you in planning and creating the best smile possible using dental implants…Give us call or email us for your appointment!
_____________________________________________________________________________________________
What is a Dental Implant?
Many times people will say that they would like an "Implant".   After a further discussion patients will assume that by saying "implant" that will allow them to start chewing on that "implant" when the procedure is complete.  That's not the case.
Several steps are necessary to take place to achieve acceptable results with the placement of a dental implant.  When we speak of an implant procedure there are three basic items to consider.  I like to compare these basic items to the following;  root, tooth and crown.
The first comparison or analogy to make is that of the "implant" and the root of a natural tooth.  Many times I will state that we are going to "build" a new tooth where we are missing a tooth.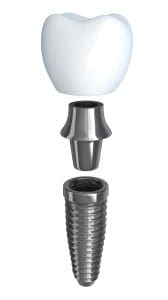 First we need to have a foundation or "root" to start with, similar to the base or root of a natural tooth.  I compare the implant to the root of a tooth.  So when an implant is placed in the bone one has the "root" similar to that of a natural tooth root.  One can't see the root of their natural tooth and therefore a patient can't visualize the implant either when in place within the socket of bone.    So if we now have a root we need a "tooth" to go above the gumline on the implant (root).
The "tooth" would be called an abutment.  An abutment is a prosthetic attachment that is placed immediately on the top of the implant and will be seen within the mouth much like a natural tooth.  That will be the second of the three parts needed to complete the "implant" procedure.
The third and final part is that of the crown that goes on the abutment or "tooth".  The crown or cap on an implant is very similar to a crown that is attached to a natural tooth.   The crown on an implant can be secured with a screw into the abutment or cemented.
So, in summary, we have three items to consider when discussing an "implant" procedure within the mouth.  First is the "root/implant", second is the "tooth/abutment" and the third is the crown or cap.
Usually, a surgeon will place the implant and a general dentist will place the abutment and crown.  Although, a single dentist may complete the entire procedure as a general dentistry service.  So remember when we speak of an implant that one consider all three portions and not just the "root" or implant that is placed into the bone of the patient.  Contact our office for more details.
If you would like more information about dental implants, visit the International Congress of Oral Implantologists (I.C.O.I.) website for more information.
"With a Smile, We're Changing Lives"