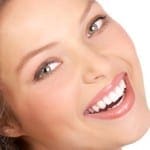 Veneers are small custom made pieces of porcelain that are "glued" to the front surface of your tooth.  They are usually placed on all of your upper front teeth that show when you smile.  Sometimes no preparation or cutting of your teeth is required.
If your natural teeth are severely uneven or out of alignment, preparation of your teeth will be necessary to achieve a great smile.
This type of restoration will require more time and materials and therefore your cost for these will be higher.
Veneers are a more conservative approach than crowns.
Materials  may be porcelain, zirconium or bonded filling material.  They  may be direct or indirectly constructed and placed.
Contact us so that we may discuss whether veneers are an option to restore your smile to beauty!
"With a Smile, We're Changing Lives"