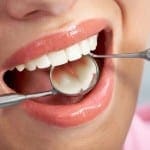 Dental crowns  are often used in dentistry to restore a tooth to improved dental health.  Crowns may be used if one has an existing large filling that needs strengthening.  Many times a tooth may have a large area of decay in which a filling may not adequately restore the tooth.  If the tooth has very little or weakened tooth structure, a crown may help to protect the tooth from further breakage and damage. This is one of the many service we offer in general dentistry.
Crowns can take many forms and can be made from various materials.  Typically, it takes two appointments to fabricate a crown.  Anterior teeth may take more visits due to fact that esthetics must be checked to insure the best and most natural look for your smile.  Today, crowns are made from materials that are nearly the same look and feel of the natural enamel of your teeth.
Do you have old, large and unattractive fillings that need a new look?  Maybe you have some old crowns that were made of older materials that are now unattractive?
Dr. Miller has had many years of experience in selecting and constructing natural looking crowns for his patients.  Our office would be happy to assess your smile and answer any questions you may have about crowns and how they can improve your smile!
"With a Smile, We're Changing Lives"