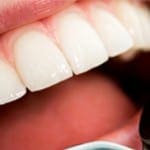 "Bonding" is a cosmetic dental procedure used to improve the look of anterior teeth.  Tooth Bonding or teeth bonding may take many forms and is typically used to close spaces between teeth and to make teeth appear more natural. Sometimes, patients will have gaps between their front upper teeth.  When this naturally happens, teeth bonding will allow for the gaps to be filled in.
A tooth colored composite filling material is generally used to complete teeth bonding procedures.  This is many times considered an "additive" procedure whereby the enamel of your tooth is not removed but composite is added to give your teeth a better look.  Therefore, bonding is a great way to achieve a nice smile without "cutting" or dramatically changing your tooth.  Bonding can be completed in as little as one appointment or make take several to complete.  If the gap is between the front two teeth, bonding material would be placed on the two adjacent tooth surfaces.  The bonding material should be approximately equal thickness on both teeth for the best esthetics.
Bonding is one of many cosmetic dental procedure that our office offers.  Whitening, bonding, fillings, crowns and bridges are all options to achieve a beautiful new smile.  Regardless of the technique selected, an option is usually available so that a nicer, more beautiful smile is achievable by most patients.
Come in for a consultation to see if bonding will help you achieve the smile of a lifetime!
"With a Smile, We're Changing Lives"